WashCard Blog
Building A Successful Marketing Plan | Part 2
Last month, we discussed some ways to start building a successful marketing plan including setting your goals, creating a content repository, and what kinds of items to put into a marketing plan. This month, let's talk about how to reach each of the content goals and create more followers through your social channels.
The first step though, is choosing which social networks to use.
If you don't know which social network to use, first answer these questions:
What social network(s) is your audience actively using?
What platform(s) align with the type of content you share or want to share?
What platform(s) are appropriate for your industry?
Answering these questions can help you determine which channels are best for your audience. Now, going forward, last month we asked the question of what is your goal in marketing? Are you working to build awareness, bring in more customers, nurture your community, or learn about your audience? Let's start identifying key metrics and strategies to reach your specific goal.
INCREASING BRAND AWARENESS
If your goal is to increase your brand awareness, social media is one of the best ways to spread the word about your business. Facebook provides a huge wealth of users, 1.94 billion to be exact, and the capability to reach them with little effort. Measuring brand awareness can be tricky though. Here are some of the specific figures you can look at for brand awareness:
Average reach per post
Website traffic from social media
Number of followers & brand mentions
Engagement levels (likes, shares, comments, etc.)
Brand coverage relative to your competition
One of the ways to increase brand awareness is posting content that excites your audience. You are competing with other car washes for user attention, so your content should stand out from the others. Aim to produce and share content that educates, informs, entertains, or inspires. This is a great place to share all the silly memes you find online, or the articles around why you should wash your car at a car wash instead of at home, or events you host or help sponsor in your community. Monitoring how your posts do over time can help you see how your content plan is increasing your brand awareness.
DRIVING MORE CUSTOMERS
When you're looking to increase traffic and leads, your website analytics should be your bread and butter. They'll tell you exactly how well your online efforts are paying off. Traffic and analytics you should be tracking include:
Traffic from social referrals
Social referral session duration, (bounce rate)
Form submissions from social referrals
Generating revenue from social media referrals can be hard to measure in the car wash world unless you have an online sales process. If you do, you should also look at and track actual revenue generated from your social media referrals to your website.
In Social Media Examiner's 2017 Social Media Marketing Industry Report, 78% of survey respondents said social media marketing helped them increase traffic. This response indicates that businesses would do well to take advantage of social referrals. To drive traffic, your main strategy should be creating awesome content for your target audience. The more specific and relevant it is, the better.
Also, make sure you profile and branding is consistent. Link back to your website in your bio, your branded posts, and anywhere else that allows you to insert a relevant call to action. This helps user expectations and creates a unified experience. Also, encourage your employees to interact with people online as well to increase brand reach and followers.
BUILD A COMMUNITY
However you look at it, your social media page combined with your followers and influencers make up an online community. Your job is to cultivate that community, growing it into a valuable tool that represents the image and vision of your car wash.
If you want to improve customer service efficiency, increase brand engagement, build trust, or provide more value to your customers, building a community is a great goal to have. A simple and easy way to do this is simply to ask questions and share relevant links and videos.
When you think about measuring the performance of your community-building efforts, keep in mind that it's very difficult (if not impossible) to measure direct revenue generated from your community. However, community can help you gain valuable insight about your customers. Who are they? What do they like? What content resonates with them? While revenue can't be directly measured, these metrics help you see if your community efforts are paying off:
Engagement (number of clicks, likes, comments, shares)
Brand mentions
Posts linking to your content
Follower growth rate
Survey responses to "How did you come across our brand?" (if the response is social media)
In a nutshell, building a strong social media community is all about fostering engagement. The more relevant engagement within your community, the more valuable it becomes to users. Keep a close eye on which pieces of content as well as which topics perform the best and use that information to continue to build your community in the future.
LISTEN TO YOUR AUDIENCE
Social media presents brands with a massive opportunity to learn about their audience through social listening. The nature of social media means sharing information publicly, which is great for marketers doing research. By monitoring conversations, sentiments, and mentions, you can get a good idea of how your audience feels about a particular topic.Constantly learning about your audience is something you just shouldn't turn off.
Measuring how much you know about your audience can be difficult. No metrics directly correspond to social listening success. Lucky for us, a few figures have indirect relationships that still provide decent indicators:
Your Brand mentions (this metric should increase while running social listening campaigns)
Positive or negative social perceptions
Audience demographics (age, location, interests)
Level of influence (authority of a social media user, measured by overall reach)
How to Research Your Audience
Something as simple as looking up a particular hashtag and seeing the results can be considered social listening. But social listening can be a job in itself. To do social listening, keep track of conversations that mention your brand, and respond to as many interactions as possible to encourage brand-related conversations.
To streamline the work of social listening, use social listening tools like Mention or Hootsuite. After a campaign is completed and you've gathered your information, make sure your social listening report is actionable. For instance, if your brand perceptions are low, work to create a more positive brand experience. It's easy to get caught up with social media reports so maintain a healthy balance between actual listening and reporting. Make sure to prioritize actual listening and acting on insights.
IN CONCLUSION
Defining your social media goal will help you in knowing what strategies to adapt. Tracking metrics and knowing what success rates you have will not only help you achieve your goals, but also set better goals for the future.
WANT TO READ MORE? Check out more info HERE for examples and to read more about your social media goals.
SOCIAL MEDIA CONTENT CALENDAR & USER GUIDE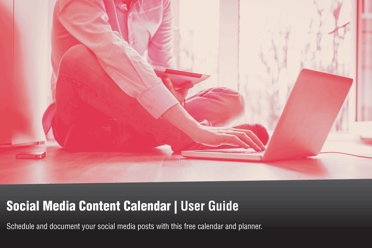 You've set your goals. You know what steps are next but maybe need a little help to get started? Take a look at our Social Media Content Calendar & User Guid to get started on the right foot.