WashCard Blog
Loyalty: Why It Helps Your Business
LOY·AL·TY
ˈloiəltē
noun
the quality of being loyal to someone or something.
a strong feeling of support or allegiance.
For years, companies have been trying to perfect the way a loyalty program can best fit their customers. There is no exact or perfect equation for creating a loyalty program. However, there is a lot of evidence saying no matter how you do it, you can benefit from simply having one available.
WashCard's business began with the idea of creating high-quality loyalty programs for the car wash industry. Years later the data from the industry is conclusive – customers will use a card program when they have the OPTION to save money. And let's be honest, if you can save your customers money, they will keep coming back. Isn't that the entire goal of creating a loyalty program?
Beyond providing savings, loyalty programs can allow you to easily track exactly what your customers are doing. They also allow you to better serve them based on their habits. Your business will have different busy times and spending rates than Crazy Carl's Car Wash down the road. Being able to customize your loyalty options around YOUR customers' habits gives you more power, control, and loyalty over your business.
SO WHAT EXACTLY IS A LOYALTY PROGRAM?
In short, a loyalty program is specialized marketing. This marketing goes to your customers and rewards them for purchasing from you. In turn, this increases their want and need to stay loyal to you. There are many different types of programs out there for loyalty. In general, it's the attempt and ability to maintain loyal customers based on programs which reward them for coming to you instead of Crazy Carl.
MEMBERS ARE YOUR MARKETERS
When you find a great product are you the kind of person to recommend it to your friends, family, and neighbors?
We are. And we hope your customers are too, because when it comes down to it, 73% of members are more likely to recommend brands with good loyalty programs. If your customers are out there recommending your business based on your loyalty program, you are bound to gain more business because of it. When your loyalty program is easy to use, requires little effort, meets your customer's needs, and fits your brand, you are headed in the right direction.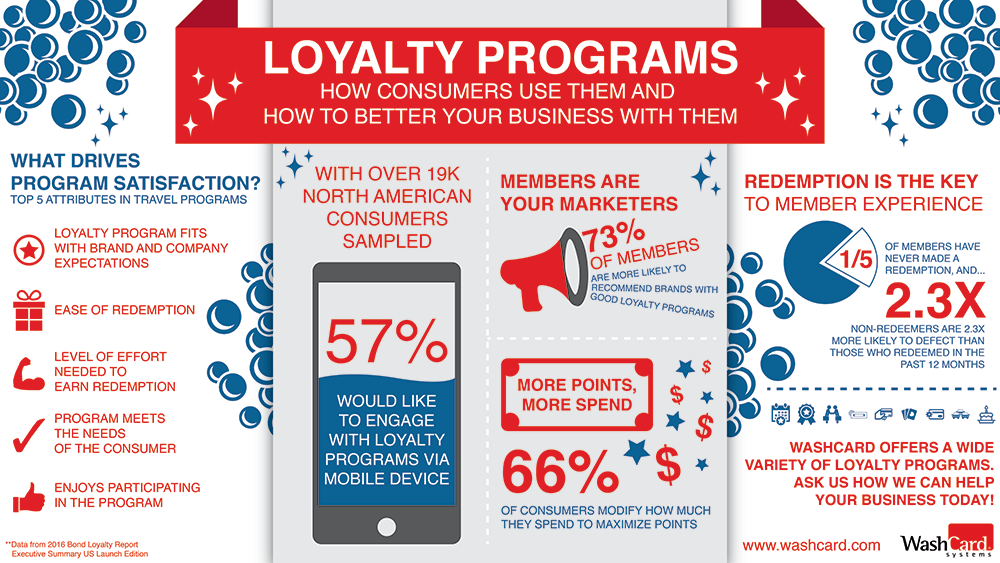 WHY HAVING LOYALTY IS IMPERATIVE
Are you on the fence about adding a loyalty program? Well, you really don't need to be. Just hop on down and hear about some of the reasons you should truly consider implementing loyalty into your business.
It has been proven to boost growth
Customer loyalty programs have been shown time and time again as one of the easiest ways to ensure growth in business from the ground up.
Loyalty programs aren't as expensive as you think
Pursuing new customers is the true cost burden when it comes to business. It's much less expensive to keep an existing customer (you know, maybe with a rewards program). Depending on what you have for your rewards program, the expenses you incur from that could be overshadowed by the business you generate from having a rewards program to begin with.
Boost your reputation
As we mentioned earlier, members are your marketers. If you have a happy customer who feels appreciated, the likelihood of them sharing that joy and appreciation with their friends and family is pretty high. The word-of-mouth nature can continue to grow your business, simply because your customer feels appreciated and gets rewarded for coming to you (and not Crazy Carl).
Increase sales by including awards
Whether you are offering a free wash, a free vacuum, or a free air freshener, enticing your customers with easily earned awards will give you better access to a bigger portion of their wallet. In other words, the more you reward them, the more they will spend.
It provides market research
We mentioned this earlier, but this one right here is vital to your business. When you add a loyalty program which requires your customers to sign up in some way, you are being given access to their behaviors. When you have access to their behaviors, you can market to them in ways you couldn't before.
Hone in on specific rewards which are most appreciated
Understand when they come to your location the most
Find out what services they use the most
Through trial and error, you can see the incentives which best fuel your customers' desires.
It makes customers happy
By offering a loyalty program, you are sending a message to your customers that you have a mutually beneficial relationship. The acts of goodwill improve the outlook of your customers. This ultimately has a positive impact on your business. If Crazy Carl doesn't offer a loyalty program rewarding customers for coming in, they'll be much happier to hear you have a loyalty program and will use it.
Once it's up and running, it stops being work
Setting up a loyalty program can take some work on the back end of things. You first need to understand your customers and what they want out of a loyalty program. But, once you have it set up and ready to go, it effectively becomes self-sustaining.
FINDING WHAT WORKS FOR YOUR BUSINESS
As we've mentioned, there is no perfect equation for loyalty programs. A lot of it is trial and error. Good thing for you, WashCard offers a large variety of programs that allow you to do trial and error with more than one program. With our mobile option, it opens even more options up for your customers to use.
Loyalty Programs Increase Consumer Spent
Typically, consumers spend more when they belong to a loyalty program.
According to the 2016 Bond Loyalty Report, 66% of consumers modify the amount they spend to maximize points. On the one hand, loyalty members buy more often and spend more than non-loyalty members, resulting in a 5-10% revenue increase. On the other hand, according to the same report, the average household is enrolled in roughly 13 loyalty programs, but only active in seven. You can't simply start a run-of-the-mill loyalty program and expect a revenue increase.
Loyalty programs cause people to spend more, but not all are created equal.
Personalization, Attainable Rewards, and Experience
One size doesn't fit all. Consumers want more personalization, a better digital experience, and a variety of earning methods. Creating attainable and realistic awards for your loyalty program is a must. Give your consumer an easy goal to strive for.
What's the value of sending a coupon for coffee to a non-coffee drinker? Zero. Know your customers and personalize. Send the right offer to the right customer.
How can your customers redeem their rewards? Do you make it a simple or complicated experience? If point redemption entails visiting a website or app, make the redemption process intuitive.
HOW DO I GET STARTED?
Once you have your programs up and running, the real question is how do you get people on board? Well, there are a few foolproof ways to so that. The graphic here gives you some great tips on how to do it with success. To sum a lot of it up though, you need to get the word out! Whether it's through your social media channels, your website, posters, employees, friends, whatever it is. Without putting the word out that you have a loyalty program, no one will ever know.
WASHCARD CAN HELP YOU!
Business accounts are your lowest hanging fruit when it comes to loyalty. Gaining a business account, on average, has increased income by $7,300 per month. Some customers have even made upwards of $40,000 to $60,000 per month solely on business accounts.
Keep your loyalty fresh
The number one thing you want to do as a business owner is to keep your loyalty program fresh. Provide opportunities beyond the purchase. Reward customers for submitting reviews, registering on your website, checking in on social media, etc.
Having an element of surprise is a great way to keep them engaged in your program and continue to come back. Static programs don't do much for the customer which won't make them stay with you and if they find a better loyalty program down the road with Crazy Carl's, you might be saying goodbye.
Mobile loyalty programs are also changing the game. Technology makes it easier to market to your customers, but also allows you to focus more on what their needs are. You have so many touch points, connecting to them is easier than ever before.
However, that's not the only thing that can earn you more loyalty. Charity fundraising can bring people who have never been to your business, give them a good experience, and make them loyal customers. Not only are you helping your local community, or larger community, you're giving your business exposure it didn't have before.
And who doesn't love free things? The best and easiest way to get someone in your bays is to offer them a free wash on their birthday!
However, birthday washes can sometimes mean a customer may only come in once. One way to combat that is offering prepaid packages at a discount. A customer can spend $25 and get $30 worth of washes, or spend $50 and get $60. However you want to set it up and provide those savings to your customer. You get paid immediately, and your customer doesn't have to worry about single transactions on their card every time they come to your location.
To learn more about what loyalty features WashCard can provide, visit our loyalty page!