WashCard Blog
Mobile Taking Over Credit
While it may seem that many people are hesitant to use their phone for payments, the trend is certainly moving forward.
The market for mobile payments is growing quickly in the United States and is especially growing in Canada. Smartphones have replaced Canadians' maps, alarms, translators, and personal trainers. Wallet's surely could be the next big thing to be replaced.
Let's look at some of the numbers.
Three years ago, in 2014, $235 Billion of business was done through mobile payments. For 2017, projected numbers have that TRIPLED (4). There is an estimated $720 Billion worth of business which will be done online, through mobile payments. The projected amounts for 2019 surpass $1 TRILLION! (3)
$720 BILLION IN BUSINESS ONLINE IS A HUGE NUMBER AND IF YOU'RE NOT TRYING TO CAPTURE SOME OF THAT, YOU ARE MISSING OUT ON SOME MAJOR POTENTIAL INCOME.
As more and more users begin to play with the idea of mobile payments, and are finding it simple to do, the growth is becoming exponential. However, many customers and consumers still have quite a few concerns.
Are the payments secure?
Well, if you think of online bill pay options, it is essentially the same concept. Processing a payment through a secure web page or application. The payment is being directed toward the same business, server, processor, etc. The only thing changing is the method in which the user proceeds with their payment.
WashCard has maintained PCI validation for several reasons, but most importantly, to protect our customers from having information stolen. We value your security and take pride in knowing you, and your customers, are safe.
Is it expensive to operate?
Actually, no. Using mobile payment options can drastically drop your operating costs. With WashCard, all you need to do is add a simple QR code decal and one little piece of hardware to be able to accept mobile payments. This means no more card readers being broken, no major hardware to install, and no more things for customers to break!
My customers won't use this technology.
It's the same thing we heard ten years ago when credit and debit cards started taking off as payment methods. In the world we live in today, most people can forget their credit card at home and not turn back to get it. However, if their cell phone is left at home, they are turning around and getting it immediately. Smartphones have become a small extension of our lives. No, customers might not use the phone option right away, but eventually they will give it a try and most likely prefer it over using coins, cash, or even their credit card.
Can I keep my loyalty options?
WashCard is continuously improving our software, including our loyalty service options. Currently, we do have loyalty options available and are adding more regularly from our standard loyalty rewards options. We will work to improve our loyalty options based on what our customer needs are. If we don't have it now, we'll do our best to customize our solution for you.
SPEAKING OF LOYALTY…
Many companies, WashCard included, are beginning to include loyalty options with their mobile applications. Getting your customers in the store once is the first goal you want to meet. However, your second goal is getting them to come back. This is much easier done when you have loyalty options available for your customers. With the mobile options, you can still offer loyalty rewards. When your customers give you information such as their email, name, phone number, and birthday, you're able to offer them a ton of loyalty options including free birthday washes, discounted prepaid options, text them promotional codes, and more.
What we have learned about mobile options is that customers want fast, seamless shopping experiences. To have a mobile option that takes too much time can be cumbersome and create tension. The WashCard mobile option is a fast process for customers, especially if they have a registered account. We don't want this to be a hard thing for you or your customers so we have created a process meant to make it easy to initiate the wash process. 45% of users began using mobile payments because of the convenience of it (2).
When it comes down to the process of how to make a payment, WashCard currently uses QR codes. You've seen them. You've wondered about them. They aren't scary and work pretty simply. A user simply has to scan the QR code and that brings them to a web page which then leads them through the process of purchasing and initiating the wash. Most new phones today already have a QR code reader pre-installed on the phone, and Google Chrome has also added a QR reader directly in their browser on certain phones making the process all the easier.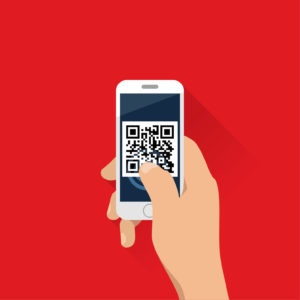 74% of those who use mobile pay options present or scan QR codes for mobile phone payments (5).
While Canada has already made a giant leap into mobile payments, the United States will be soon to follow. With the idea of mobile wallets and the ease of managing your payments, mobile is growing on a regular basis. According to a recent Nielsen study, 65% of smartphone regular purchasers (those who make a purchase on their smartphone at least once a week) plan to manage their personal accounts and payment information in a single mobile system in the future1. 85% of smartphone payers have positive perceptions toward the payment method too(1). While some of these facts may not mean much to you or your business, it does show that the trend of mobile is not going away.