WashCard Blog
Rejuvinate Your Self Serve Car Wash
It's no secret that tunnels seem to be taking over the car wash industry. While they are able to send 50+ cars through an hour, there are several benefits the attended or unattended self serve car wash has over the tunnel folks. Whether you have self-serves, in-bays, vacuums, pet washes, or all of the above, there are ways to revitalize your business by focusing on areas the tunnel simply can't. We are going to dive deep into a three part series around how to help the unattended areas of the car wash industry. Welcome to part one. This month we are focusing on what the benefits are in self serve bays for your customer, so you can focus on how to get that message out to your customers.
SURVIVAL OF THE FITTEST
The self serve car wash is a unique area in the car washing world. While the draw of a self serve wash is not as popular as a tunnel wash, the self serve bay serves a vital place and purpose in the washing community. One cannot simply live and die through tunnel washes alone.
Newer vehicles have so many safety features that cannot be deactivated and can cause problems in the middle of a tunnel wash. Vehicles with excess dirt and mud have to be turned away in tunnels, but can be directed towards a self serve bay. While dirt and mud aren't always super welcome in the self serve bays from operators, it is the most practical way for customers to clean their dirty vehicles, and puts some dollars in your pocket at the end of the day.
Self serve bays also virtually eliminate complaints of damage to vehicles because the customer can feel and see the cleanliness themselves. This is a huge advantage over tunnels and even some IBAs. So, spend the time and welcome those who can't wash at a tunnel. Bring in the business. Embrace the ability to take on such customers and serve them well so they keep returning, and tell their friends!
ACCOMMODATING A RECREATIONAL LIFESTYLE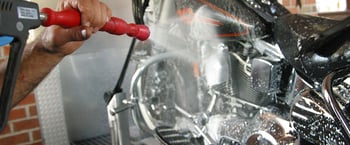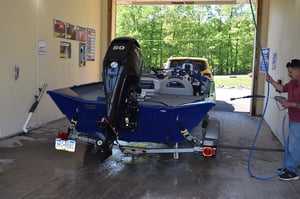 Another benefit (and great marketing tactic) is the ability to accommodate larger and recreation vehicles in the bay. Especially if you have larger bays. Large trucks, RVs, boats, jet skis, snowmobiles, and motorcycles are just some examples of things that can only be washed in the self serve bay.
Knowing this, if you can take in these kinds of vehicles, market the heck out of it! Put up signs, post on social, scream it from your rooftops, well, maybe not that. But getting the message out there is your first challenge when it comes to this side of the self serve business. Don't be afraid to dive in though. These things can bring in big tickets for you, especially if you add some of the improvements we talk about next.
TECHNOLOGY IMPROVEMENTS
Technology in the self serve bay has also advanced incredibly over the years to not only take multiple types of payments, but to include more wash options to customers. Bug cleaner, tar remover, tire shine, tri-color foams, and blow dryers are all additions that can be made to the self serve bays that can attract more customers and make them spend more. Restoring an old site can certainly take time and effort. However, it can prove to have great results when done well.
Maintaining a clean wash also attracts more customers and keeps them coming back. No one wants to wash their car in a filthy bay. One visit a day can make a big difference in making sure your bays are clean and maintained. Using social media to share how you maintain your bays, how to use newer equipment, and what services you have can help set an expectation with your customers as well and allow them to know they are being taken care of.
If you're debating upgrading your self serve wash, take into consideration the new types of business you can bring in if you do which will help your bottom line. Manufacturers sure aren't slowing down with being able to bring new technology to the game, neither should you.
GROW BIG WITH BUSINESS ACCOUNTS
There are many vehicles in the fleet world that again, can't be washed in an automatic or tunnel wash. Think about some of the businesses you see driving around your wash. From landscapers, to box trucks, delivery vehicles, and more, there is a plethora of vehicles out there that are business based, and need to be able to wash their vehicle, and be able to receive automated monthly statements instead of individual receipts for every transaction they do at the wash. This alone brings in big bucks for our customers and why we say business accounts really DO matter. If you haven't added this to your business, now would be the time to start looking at it.
IN CONCLUSION
As you can see, there are many reasons a self serve wash stands out over a tunnel. These are just a few. Consider how you can take this information, market your wash to these areas, and revitalize your business for self service. Come back next month for part two when we dive into the world of IBAs. Want to know more? Click the button below to learn more about the car wash industry.