WashCard Blog
Using Facebook To Market Your Car Wash
Social media is more than posting about your breakfast, kids and politics — it's a real opportunity to take your business to the next level. And while some folks have steered clear from social media out of fear of unwanted negative comments or the time commitment it takes to figure out a content strategy that works, you've got back up! Let's take a look at why you should be using Facebook to promote your wash and the different resources out there to help you get the heavy lifting done.
Facebook provides the best opportunity to market your car wash, its services and any membership offerings on social media. The network's robust demographic tools and huge user base allow for targeted ads and higher engagement rates that will help you build a following. Think of it like an email list but more interactive. Facebook has a database of all users in your area, and their interests, so it makes sense to take advantage of this data to promote your wash.
CREATING COMPELLING CONTENT
Content is just a fancy name that describes anything posted to Facebook, and it's how you'll message your audience and connect with them. All content should be made up of the following elements:
Text: This is the primary message of your content, the point you want to get across
Image or video: This is the eye catching element of your content. Posts without an image or video are likely to get drowned out in your audience's feed.
Some sort of link or call to action: You've hooked someone with your content but now what? Having a call to action in your content helps ensure your audience members follow up with an action, such as clicking a link to purchase a membership from your website, liking a post, providing feedback, etc.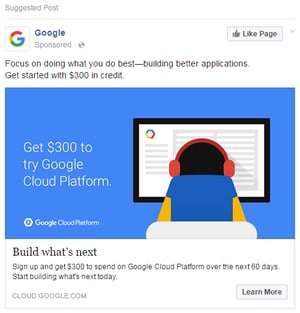 Here's a few creative ways to effectively use the three pillars of good content into your regular Facebook posts:
Post pictures of cars you have washed and smiling new members
Announce special offers, upgrades to your wash, new equipment and employees
Promote your membership offerings with clickable links that allow for quick purchases
Answer customer questions
Host reviews and short video clips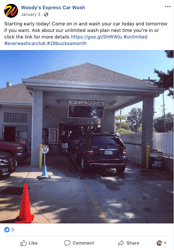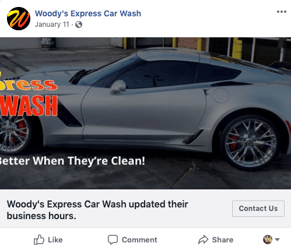 Keep your Facebook page updated with fresh content. Just like anything else in life — if you "work it" it will work for you.
Developing a Content Strategy, and Choosing a Partner Who Can Help
All this might sound daunting at first, but rest assured it really isn't! Once you have a solid Content Strategy set, it only takes a few minutes each day to post to Facebook, reply to comments or direct messages, and place Facebook ads that'll help increase your reach and audience.
If you do need any assistance, look no further than your partners at WashCard and EverWash for help. Not only can we help you launch a successful membership program and build you a modern website, we also assist in the creation of Facebook Content Strategies, Facebook Ad Campaigns, and more.
Reach out today to learn how WashCard and EverWash can bring you more members, more page likes, and more revenue than ever before. Click below to learn how WashCard and EverWash can grow your membership to receive a free digital copy of EverWash's 2019 Social Media Guide.
DOWNLOAD THE SOCIAL MEDIA GUIDE
WANT TO LEARN MORE ABOUT MARKETING IN THE INDUSTRY?
WashCard provides monthly information for you around marketing, payments and security, and general industry updates. Check it out and sign up to get our monthly newsletter!