WashCard Blog
Eco-Friendly At The Car Wash
HELP THE ENVIRONMENT WHILE HELPING YOUR BUSINESS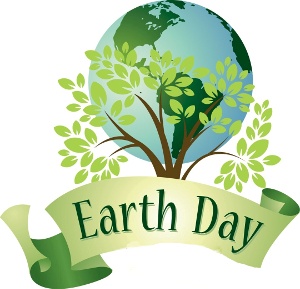 As global warming and water crisis have risen over the last several years and decades, so has the idea of being more conscious about our environment in the car wash. The number of businesses moving to be more environmentally friendly is growing. Each of us has an individual impact we can be proud of. Each business also has a small amount they can contribute to being a positive influence on mother earth. Being that this month celebrates Earth Day, we thought it was fitting to talk about how you can become more eco-friendly in your business.
Global Reports
2014: 55% of consumers across 60 countries are willing to pay higher prices for goods from environmentally conscious companies.
2013: 71% of Americans at least consider the environment as a factor when shopping. (7)
"Environmentally friendly, environment-friendly, eco-friendly, nature-friendly, and green are marketing claims referring to goods and services, laws, guidelines and policies that inflict reduced, minimal, or no harm at all, upon ecosystems or the environment." (3)
Fortunately, becoming more environmentally friendly is a good marketing claim. In addition it's good business and global consciousness. Unfortunately, becoming an environmentally friendly business is more than signing onto a program, especially for the car wash industry. Water is a big part of the business! As we move towards more environment friendly concepts, you can be sure the car wash industry will continuously have changes to help in this matter.
HOW DO YOU UP YOUR ENVIRONMENTALLY FRIENDLINESS GAME?
THE BASICS
Go Green In The Office
Yes, saving water is important, and so is saving trees! One big way to help environmentally is to look at ways to go paperless. Can you manage some of your tasks online or on a computer instead of printing?
Changing light bulbs and adding recycling bins are two very inexpensive ways to make small change in the day-to-day operation of your business. Adding recycling bins to your internal office space a good way to help employees recycle more often. In addition, providing bins for your customers reinforces your willingness to help the environment. This can also help your location if you have a lot of litter around it which can have a big impact on the environment if it's not picked up.
Plant Trees
Need to add some landscaping to your location? Plant some new trees. Trees provide a number of benefits including (but not limited to), oxygen, prevent soil erosion, clean the air, and give shelter to wildlife. Shade around your building can also help reduce energy consumption. Plants of all kinds can also add a unique look and beauty to your building.
GOING GREENER
How is a professional car wash more environmentally friendly?
Driveway and parking lot washing can waste valuable gallons of water and pollute lakes, rivers and streams, as the runoff water contains harmful chemicals that will enter waterways through storm drains. In contrast, professional car washes manage water usage, collect and treat wastewater, route remaining effluent to treatment facilities, and utilize water recycling technologies to keep cars and the environment clean at the same time. The nearly 1,500 WaterSavers® car washes worldwide are committed to meeting strict criteria to help protect the environment.
When it comes down to it, this is one of the strongest marketing points a car wash can have. While it can become a buzzword in the world of car wash and marketing tactics, it's a good one to have on your side. As mentioned before, 71% of consumers consider the environment when making purchases. The real question then becomes, in what ways can YOU become more environmentally friendly?
The car wash industry as a whole has recognized the idea of saving water and preventing water pollution for some time now. The WaterSavers group has made it their mission to help car washes save resources as well as recognize businesses that are being environmentally friendly.
A study by the City of Federal Way (Washington) found that residential car washing led to the following being released into their storm sewer system:
190 gallons (719 liters) of gasoline, diesel and motor oil
400 pounds of phosphorus and nitrogen
60 pounds of ammonia
2,200 pounds of surfactants
3,000 pounds of solids
This is the total annual release, and only for their community of 62,000 passenger cars and trucks! With more than 300 million registered passenger vehicles in North America, the enormity of the pollution problem becomes obvious. (5)
What all of this really means is this.
CAR WASHES ARE BETTER FOR THE ENVIRONMENT.
As an operator or owner, you should be pressing this message into the people in your community. And not just as a ploy to gain more business, but so consumers understand ways they can help the environment too.
According to the International Car Wash Association, the average person washing a vehicle at home uses a whopping 80 to 140 gallons of water. This is opposed to the 45 gallons typically used at a car wash. (8)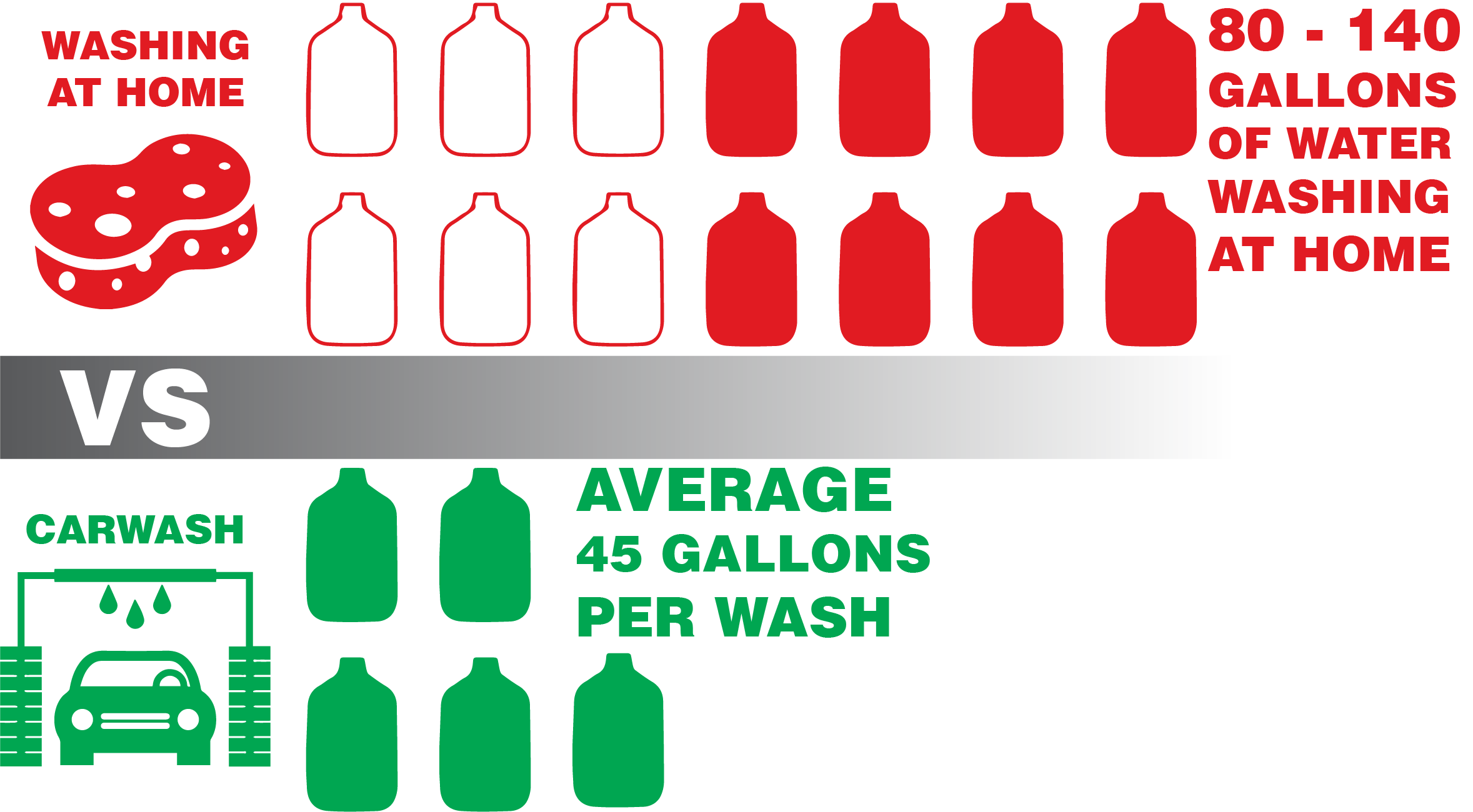 During the California droughts in 2014, even Team Coco got in on helping spread awareness about water usage when you wash your car at home.https://www.youtube.com/embed/vcTWBBJjOn0
WHAT CAN I CHANGE IN MY WASH?
Use Bubbles Instead of Foam
Bubbles are not only more fun, but they can provide the same level of quality while using less water, power, and chemical. Bubbles are great for themed wash locations and provide a multi-colored display which is entertainment fun for kids. In addition, you gain another marketing tactic to get more customers in the wash.
Use Modern Equipment
While it may be expensive to upgrade, the long-term effect of upgrading can save you a substantial amount of money in the future. Outdated equipment often uses more resources than modern technology. "Today's manufacturers are focusing more on reducing water and power usage, which is a huge leap forward for the industry, and especially for companies that are tired of overpaying for energy and water." (1)
Beyond equipment in your bay, you could even go as far as adding wind and/or solar power. Looking into other energy sources can help your energy consumption and set you apart from other competition in your area. (9)
Educate Your Team and Your Customers
Education is the best tool we have for any situation in life or in business. If you as an owner or operator are passionate about being environmentally friendly, talk to your employees about it. Educate your customers. Ensure they understand the processes and ideas in place to create an eco-friendly location. Giving empowerment to your employees and to your customers to spread the word is a win-win situation for you. Your website and social media platforms is one of the easiest ways to share being an eco-friendly business.
Integrate Card and Mobile Payments
Admittedly, this one is a big benefit for us. However, in the long run it can be a big benefit to you too. We just wrote all about ditching coins in your car wash but never touched on the idea of saving a little of the environment as factor. Less trips back and forth to your location is less driving and pollution. With credit card processing you're able to monitor transactions online instead of getting piles of receipts. In addition, you can use the available marketing tools from WashCard to market online rather than printing and mailing advertising pieces.
Whether you are a self-serve operator, an in-bay, or a full service tunnel, being eco-friendly can be done at all levels of your business. It is a great way to market to your customers and have a foot up over competition. No matter what steps you are currently taking, being proactive in this situation is good for your business, your community, and for our planet earth.